Enjoy Your Summer Without Losing Your Sanity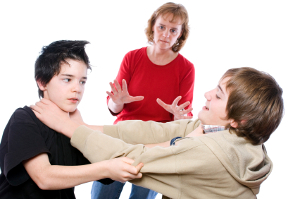 Two words that can send shivers down any parent's spine is "school's out!" These words mean an end to the sanity of every  day life. If you and your spouse both work, the added expense of day care begins. For parents who stay at home, your tranquility is suddenly interrupted by kids fighting and running in and out of the house all day. To keep your sanity, you need to come up with a summertime schedule that will keep your children busy.
Does this sound familiar? Summer starts out by feeling exciting, but about halfway through it starts to lose its luster. The kids start fighting. They are bored, and you can't get anything done or find time to relax. If your kids are teenagers, this can be even more of a challenge. By the time the last few weeks of summer roll around, you find yourself at your wits end, wishing for school to start back up again. You wish you didn't feel this way, but you've tried everything you can and nothing seems to help.. at least for very long.
There are some things you can do to make your summer more enjoyable and still feel like you've had a chance to enjoy it yourself. If you can ward off boredom and lack of routine, you will be in good shape and on your way to maintaining your sanity. I have offered several suggestions below on how to do just that.
Make summer plans and do it ahead of time. So many people wait until the last minute to book a spot in that favorite camp or plan a vacation, only to find out that camps and vacation spots are full. With a little planning ahead, this can be avoided.
Plan your activities for each month of summer. So many families plan events in the beginning of the summer and then have nothing to look forward to for the remainder of the break. When that becomes 8 to 9 weeks of time, it's easy for boredom and bickering to set in. Pllan an activity for June, one for July and another for August.
Create a routine as best you can. One of the benefits of school is the structure and routine it provides. Without it, children can feel uncomfortable, irritable and even anxious. Kids feel better if they know what is going on and what to expect.
Set clear and specific rules or guidelines especially when it comes to curfew and any household responsibilities. Will your child need to get a job, or will she need to be home at certain times? Is she aware of what your schedule will be? Again, the more kids know in advance, the better they will feel so be sure to keep them in the loop as much as possible.
As your assignment this week, take a few minutes to look ahead to summer and see what you have in mind and where you might need to fill in some holes. If you follow the suggestions above, you'll have a more peaceful summer ahead of you!!