How to Use Our Potty Training Charts
Using Potty Training Charts for Toddlers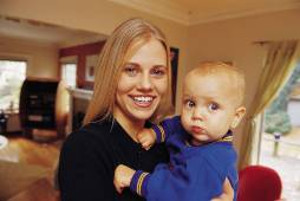 A potty training chart can be a great way to reward your child for his potty training efforts. In addition, working on a potty chart with your child can provide an opportunity to spend some quality time together! Just follow our potty chart tips below and you'll be on your way!
 Pick Out A Chart
To start, print off one of our free potty training charts. Have your child help choose her favorite chart. You can change charts on a weekly basis to make it more fun for your child. If you have a certain type of chart in mind and don't see it on our site, drop us a line and we'll be happy to make it for you! Also, you can visit our page on single behavior charts for more chart ideas.
Decide How You Will Mark Your Chart
Next, decide how you would like to mark your chart. Stickers work great with toddlers. Coloring in a chart space with a marker or crayon is also an option. If using our printable stickers, you can either print them off on some sticker printer paper or they can be printed on regular paper and glued or taped to the chart. You can also take a trip to the store with your child to pick out special "potty chart stickers" or "potty chart markers". Kids have loads of fun picking out chart supplies.
Using Your Chart
Now it's time to use your chart. The best procedure is to have your child mark his chart when he urinates or has a bowel movement in his potty. Even if he tinkles a tiny amount, reward him by allowing him to mark his chart. For toddler age children, putting a sticker on a chart spot or coloring a spot is usually enough reward. Remember that kids this age need immediate rewards. Don't wait until later to have your child mark his chart spot. He needs to mark it immediately after he uses the potty. In addition, give him loads of positive feedback. Let him know how proud you are and make it lots of fun. If your child sits on the potty but does not go, remember to still give positive feedback and remind him that he can mark his spot when he "makes pee or poo in the potty".
If you feel like your child needs an additional incentive, you can give her an extra treat at the end of the day if she has one of more chart marks for the day. For example, she can earn a little reward coupon, piece of candy, or sticker at the end of the day. Check out our printable potty training reward coupons for some ideas! Take a look at our Potty Training Example Chart for additional help!
Have Fun!
Don't forget to have fun. Enjoy spending this precious time with your child and remember that potty training takes time and patience!
by Joanne McNulty, Free Printable Behavior Charts