Age Appropriate Chores
Printable Chore List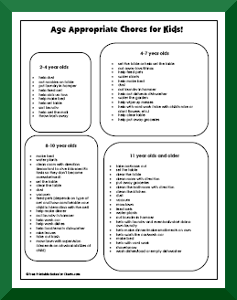 Kids of all ages can participate in household chores. It can be fun and a great learning experience for kids to start chores at a young age. This chore list is a rough guideline of age appropriate chores for kids. Keep in mind that kids are different both developmentally and physically. Some children may be able to handle more than others, some less. You need to decide what chores are appropriate for your kids. It's a good idea to start small and add chores based on your child's readiness. It's even o.k. to start with one chore, especially if assigning chores is new in your family. We want our kids to succeed so we need to set up a system that supports success! If you'd like a postable, here is a printable chore list. You can also find a printable chore list on our page of Postems! And don't for get to check out our Chore Charts for younger kids and older kids! Check out our Family Chore Charts, too.
Download our colorful infographic!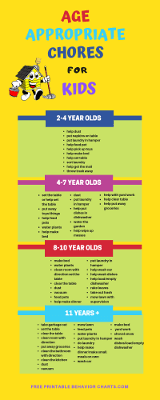 2-4 year olds
help dust
put napkins on table
put laundry in hamper
help feed pet
4-7 year olds
"Help" is the important word at this age. Many of the chores will be done as a helper and slowly kids can graduate to doing them independently!
set the table or help set the table
put away toys/things
help feed pets
water plants
help make bed
dust
put laundry in hamper
help put dishes in dishwasher
water the garden
help wipe up messes
help with yard work (rake with child's rake or plant flowers, etc.)
help clear table
help put away groceries
8-10 year olds
make bed
water plants
clean room with direction (important to give kids specific tasks so they don't become overwhelmed)
set the table
clear the table
dust
vacuum
feed pets (depends on type of pet and how comfortable your child is interacting with the pet)
help make dinner
put laundry in hamper
help wash car
help wash dishes
help load/empty dishwasher
rake leaves
take out trash
mow lawn with supervision (depends on physical abilities of child)
11 year olds and older
take garbage out
set the table
clear the table
clean room with direction
put away groceries
clean the bathroom with direction
clean the kitchen
dust
vacuum
mow lawn
feed pets
water plants
put laundry in hamper
help with laundry and eventually start doing own laundry
help make dinner/make small meals on own
help wash the car/wash car
make bed
help with yard work
shovel snow
wash dishes/load or empty dishwasher
by Joanne McNulty, Free Printable Behavior Charts